Aesthetic Dentistry
Aesthetic dentistry is a treatment system that combines tooth, gum and smile aesthetics.
In which cases can Aesthetic Dentistry be made?
• Tooth discoloration or dark and colored teeth
• Broken anterior teeth due to trams
• Anterior tooth decays due to many reasons.
• Teeth with bad appearance due to receding gums
• Aesthetic shaping of teeth after gingival treatments
• In shaping the teeth lost due to many reasons in the anterior region in accordance with lip and facial aesthetics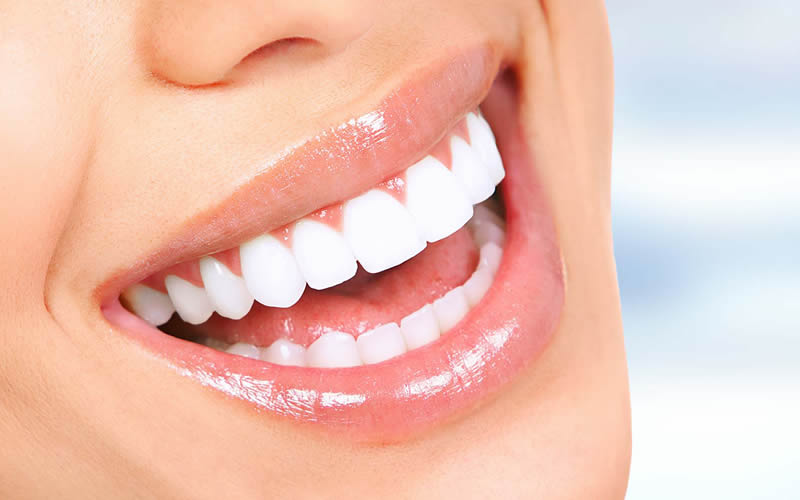 What are aesthetic dental applications?
• Bleaching
• Veneers (composite or porcelain laminate)
• Full Porcelain Crowns or Bridges
• Porcelain Fillings Compatible with Tooth Color
• Pink Aesthetics (Gum Shaping)
• Deep Teeth Cleaning
Bleaching
Due to human nature, our teeth colors show differences. Today, teeth discoloration occurs due to reasons such as tea, coffee, smoking or drug use. While some of the colorations are very superficial, some of them may have penetrated to the deeper layers. In some cases, the color of the teeth may be a little dark due to congenital origin. While some of the discolorations can be removed by simple polishing, sometimes cleaning and whitening with chemical agents may be required. Whitening agents applied in clinics are applied to the tooth enamel in two sessions. Household bleaches, on the other hand, should be applied very carefully due to their intense abrasive properties. When the whitening process is applied correctly, it can lighten the original tooth color by 2-3 tons. However, the use of bleaching agents may cause color change again.
Porcelain Laminate
Laminated teeth can be a very suitable option when evaluating prosthetic treatment options after the implant application process or prosthesis procedure is decided. While in classical prosthetic methods, metal support should be processed, this method is the process of applying an imce porcelain layer to the outer surface of the tooth. You can have very beautiful and healthy teeth aesthetically. Porcelain laminates are very suitable for obtaining radiant smiles. Laminates are a thin layer of porcelain, prepared in the laboratory after measuring and adhered to the front, that is, the visible surface of the tooth. A small preparation is made only on the front surface of the tooth. Thus, your natural tooth will not be damaged. Because laminates look extremely natural, you will achieve the permanent aesthetic you dream of. The application of the application by competent doctors has the greatest share in the success of the treatment.
Composite Laminate
As with porcelain laminates, a limited amount of abrasion is made only on the front surface of the tooth. Certain proportions of color, shape and position deformities can be corrected with a tooth-colored composite filling material directly in the mouth without measuring. It is a method that is performed in a much shorter time (in a single session) and the price is much more affordable than porcelain laminates. An average of 20-30 minutes is required for a tooth and results are obtained immediately.
Zirconium
One of the important agents of Smile Design, which has gained popularity recently, is ziconium coatings. Ziconium has characteristics similar to tooth enamel in absorbing and reflecting light. For this reason, ziconium veneer teeth made with the right aesthetic point of view give very natural results. Metal-supported prostheses do not have light reflection and matte image formation problems.
Aesthetic Dentistry in Turkey
We serve our aesthetic and functional treatments with our expert dentist staff. Our staff in the field of aesthetic dentistry
-Orthodontist Dr. Dt. Canan Colak
-Prosthesis Dr. Dt. Oguz Suleyman Ozdemir
-Implantology Dr. Dt.. H. Ilyas Köse
-Dentist Dt. Kübra Karabunar